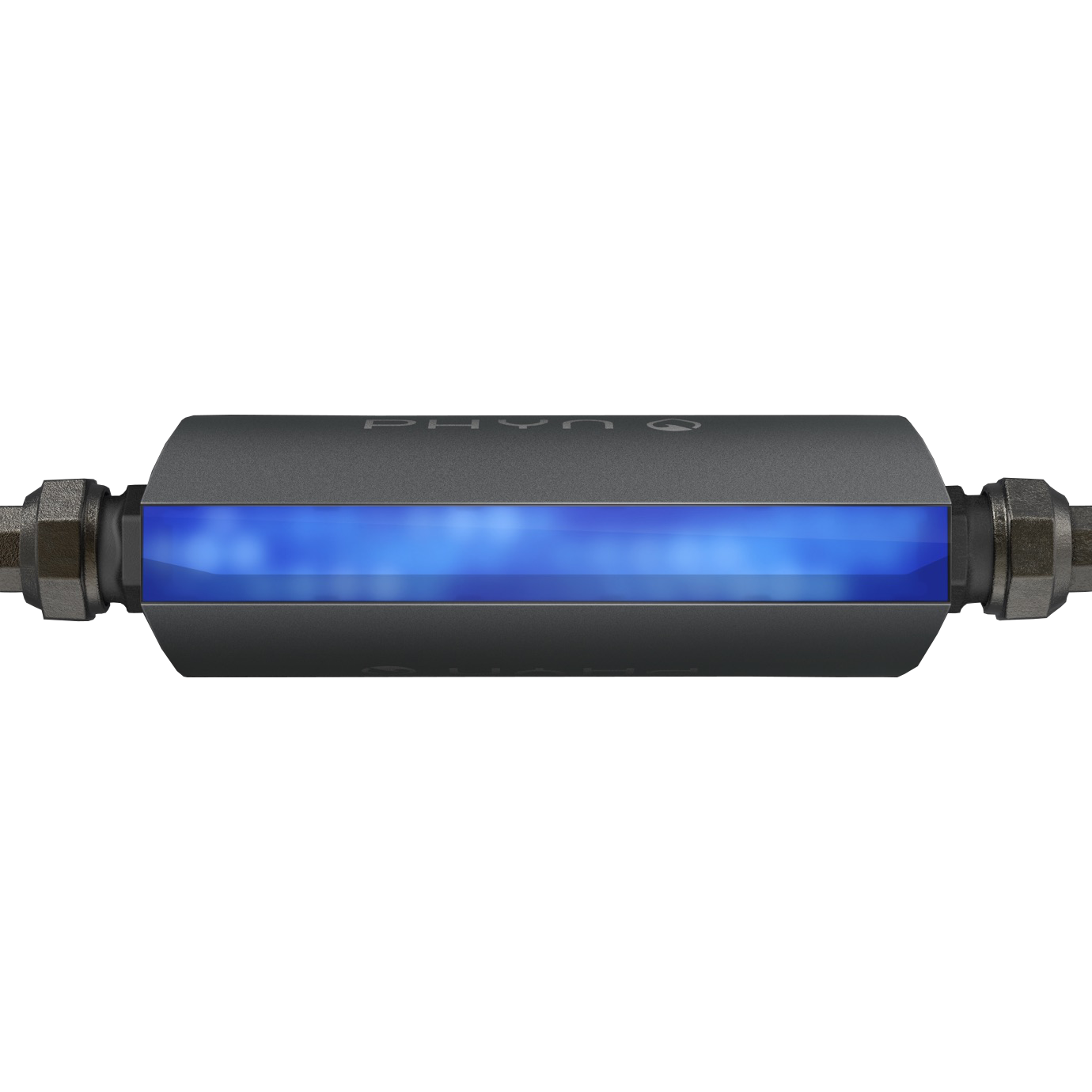 Phyn Plus (1st Gen)
Out of stock
The Phyn Plus (1st Gen) is the flagship model of the Phyn Plus series of water intelligence monitors.  The Phyn Plus (1st Gen) is larger in size compared to the 2nd Gen version to accommodate the higher quality components housed within.  With it's durable construction it is expected to withstand the rigors of daily water usage required from any household.  As the flagship model of the Phyn Plus series the 1st Gen series will continue to be fully supported as with all other generations of the series.
Smart water assistant + shutoff
Phyn Plus uses patented, high-definition pressure wave analysis to alert you the second a leak is detected, mitigate costly damage through automatic water shutoff and teach you about your water use.
The Most Accurate Leak Detection Solution
In a recent third party study, Phyn Plus was found to be the most reliably accurate whole home leak detection solution across multiple flow thresholds.
Measuring pressure waves.
240 times a second.
The science behind Phyn was developed in the labs of the University of Washington and at Belkin. Phyn Plus measures tiny changes in pressure 240 times every second to understand the unique voice of each water fixture in your home. This allows Phyn understand the subtle differences between a running bath and a burst pipe.
High Def Ultrasonic Flow Sensor
Phyn Plus is the only connected water monitor to offer an ultrasonic flow sensor, exclusively built by Badger Meter, with no moving parts, ensuring accuracy and durability over the long haul. Other water monitors use turbine flow sensors with rotating discs that are less accurate, and often degrade over time or can get stuck by debris or buildup.
One device. Whole home protection.
Other water monitors require you to place multiple sensors around the home where you think leaks are likely to occur. One Phyn Plus in a single location is all you need to monitor your entire home's water system for leaks. 
Indoors or out, Phyn Plus is built to last
Developed to withstand harsh winters and desert summers. Phyn went above and beyond to ensure that Phyn Plus is the most durable and reliable water monitoring solution available.
Resources